Parkway College is the education and training arm of IHH Healthcare. Our college has been a spring board for people wanting to build a career in the healthcare services. Over the years, our college alumni have successful careers in both public and private healthcare service sectors.
As Singapore's leading private college providing education and training opportunities in the healthcare service sector, we are committed to continuously improve our curriculum and teaching quality. Other than meeting the professional and regulatory requirements, we leverage on the Parkway Pantai eco-system of healthcare professionals, network and facilities to enrich the learning experience. We continue to develop our college capability in learning technology and facilitating adult learning.
Our academic programmes are conducted in partnership with selected overseas universities who are known for their strength and credentials in the particular field of studies, such as Radiology, Optometry and Healthcare Administration. Our Nursing programme is specially designed to enable our graduates to perform their professional duties in a private hospital environment. Our various short courses support the continuing education and training needs of healthcare service professionals.
Our pride is in our contribution to our students' career successes and professionalism in the healthcare industry. Although we are just a part of the society's healthcare eco-system, the significance of our role is in passing on the healthcare knowledge in the system by continuously improving ourselves in transferring knowledge and collaborating with the best partners in the healthcare and learning field. Together, we will make a positive impact and improve the quality of life in our society through the healthcare service sector.
If you are looking for a meaningful venture and want to make a difference in the healthcare service sector, come and see what we could offer.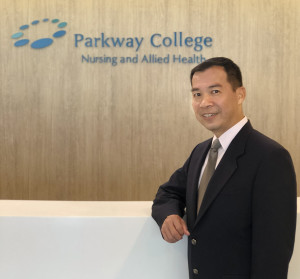 Yong Wui Chiang
CEO, Parkway College